McMahon Stadium Access and Guidelines
---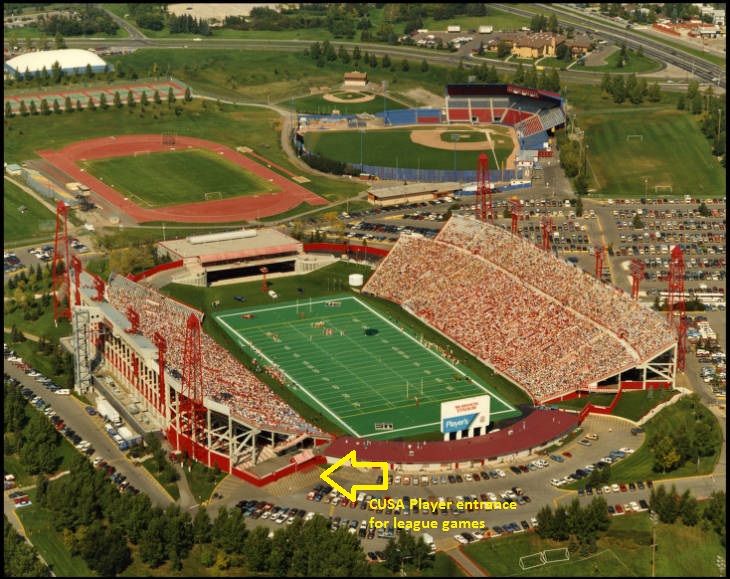 REGULATIONS FOR THE USE OF McMAHON STADIUM
FIELD:
The Main Field will be made available thirty minutes before the scheduled start time for players, coaches, and officials. Please note the 8:15pm game will be following another CUSA game and as such, players will not have access to field until the prior game is completed. Note: The South Practice Field is OFF LIMITS at all times.
Participants/spectators are to enter and leave the facility through the Pass Gate located at the southwest corner of the Stadium (see diagram above).
Spectators are to use the West Stands ONLY - the East Side of the Stadium is OFF LIMITS.
Only game participants and club officials are allowed at field level. Friends, relatives, etc., must remain in the West Stands.
All players/officials are asked to stay off the grass fringes around the field.
Please do not touch the uprights.

McMahon Stadium is a non-smoking facility.

Chewing tobacco and sunflower seeds are not allowed at field level.

Food/drink (other than water) are not allowed at field level.

Bicycles and pets are not allowed at field level.

Alcohol is not allowed on McMahon Stadium premises.

Please pick up garbage around your team's bench after the game - garbage cans will be supplied at each of the bench areas.
FOOTWEAR FOR ARTIFICIAL TURF:
Standard molded plastic cleats are strongly recommended.
Screw-in metal cleats and V-cleats are NOT recommended.
Cleats MUST NEVER be longer than 1 inch.
PLEASE ENSURE THAT ALL FOOTWEAR IS CLEAN PRIOR TO STEPPING ON THE ARTIFICIAL TURF.