Calgary United Soccer Association
January 28, 2021 CUSA Membership Update Read More
January 15, 2021 CUSA Membership Update Read More
Sport Shudown FAQ - Updated November 30
November 25, 2020 CUSA Membership Update Read More
November 13, 2020 CUSA Membership Update Read More
November 12, 2020 CUSA Membership Update Read More
September 4, 2020 CUSA Membership Memo Read More
August 28, 2020 CUSA Membership Memo Read More
August 21, 2020 CUSA Membership Memo Read More
August 14, 2020 CUSA Membership Memo Read More
July 27, 2020 CUSA Membership Memo Read More
June 29, 2020 Cohort Group Guidelines & Reminders
June 24, 2020 Return to Modified Games Registration Opens
June 19, 2020 CUSA Membership Memo Read More
June 12, 2020 CUSA Membership Memo Read More
June 5, 2020 CUSA Membership Memo Read More
May 29, 2020 CUSA Membership Memo Read More
May 22, 2020 CUSA Membership Memo Read More
May 15, 2020 CUSA Membership Memo Read More
May 8, 2020 CUSA Membership Memo Read More
May 1, 2020 CUSA Membership Memo Read More
April 24, 2020 CUSA Membership Memo Read More
April 17, 2020 CUSA Membership Memo Read More
April 1, 2020 CUSA Membership Memo Read More
March 25, 2020 CUSA Membership Memo Read More
March 16, 2020 CUSA Office moves to remote operations.
CUSA OFFICE CLOSURE. Canada Soccer has suspended all sanctioned soccer activities with immediate effect. Please note our office is closed to the public until further notice and we are moving to work remotely. Questions can be directed to info@cusa.ab.ca
We appreciate your patience and understanding while we all work together through this challenging time.
(March 13, 2020) CUSA League play suspended for remainder of Indoor 2020 Read More
(March 12, 2020) CUSA Membership Read Memo
Canada Soccer
June 6, 2020
Canada Soccer Risk Assessment Tool - contact info@cusa.ab.ca for link.
To be completed by each CUSA Club or Independent team PRIOR to returning to sanctioned training or scrimmages.
CSA Response Action Plan - Return to Soccer
May 14, 2020 CSA return to soccer guidelines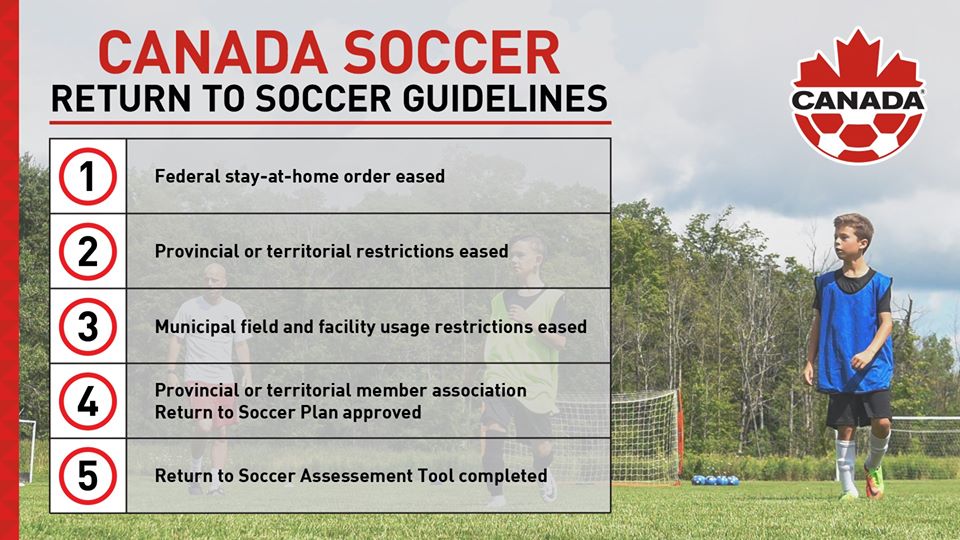 Canada Soccer Nation Inside - Updates
Alberta Soccer Association
Effective February 8, 2021
8 &2 Return to Training Guidelines
Effective February 8, 2021 v.2
June 10
ASA Return to Train Full Webinar
ASA Return to Train Slide Show
June 5, 2020: