Indoor Nations Cup
---
About the Indoor Nation's Cup
The Indoor Nations Cup was introduced in 2015 and is held annually as a competition to bridge the gap between Indoor and Outdoor seasons. It is an opportunity to recognize the cultural diversity that exists locally within the sport of soccer. This tournament provides a unique concept of grouping players based on their ethnic backgrounds and countries of origin, creating an exciting atmosphere that provides a stage for people throughout the community to express their pride in their heritage.
Indoor Nations Cup 2023
Tournament Draw will take place on March 15th at 7pm in the Calgary Soccer Centre Red Card Lounge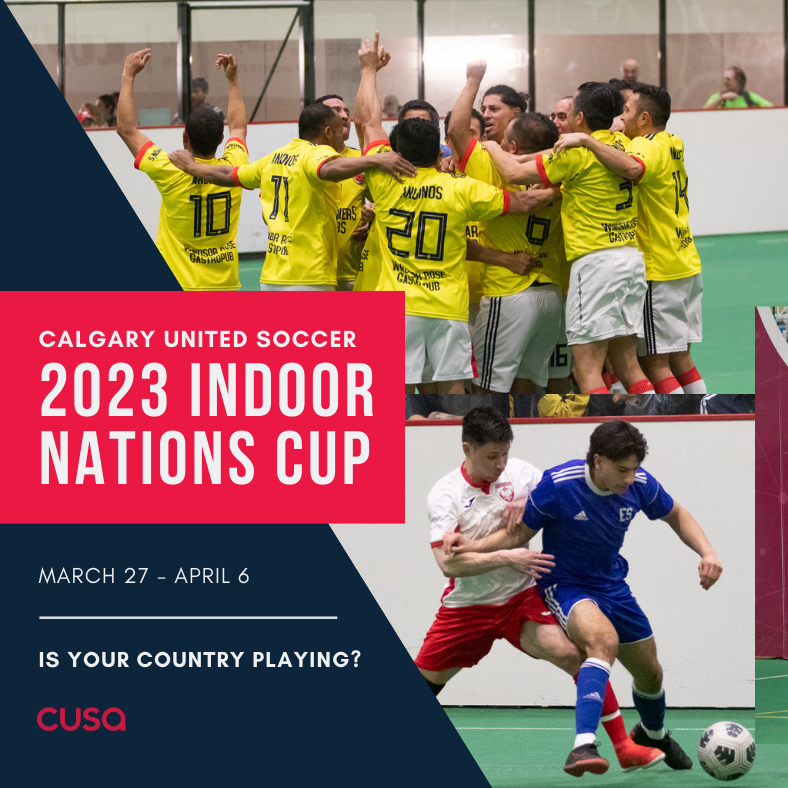 WHEN: March 27 to April 6, 2023
WHERE: Calgary Soccer Centre
Player Registration Deadline: March 24
Team, player and team official registration will be completed online using the same process as CUSA league. Prior to player registration opening, the Team Manager will be provided with the instructions for player registration and how to provide proof of heritage.
All players must provide proof of heritage to CUSA. Players only need to provide this documentation the first time they play in the tournament. CUSA will request additional documentation should a player appear on a countries roster that is different from tournament records.
Players not registered for the 2022 23 Indoor Season must submit a Guest Player Registration Form and pay the fee when registering.
2023 Nations Cup Rules and Regulations - Click Here
Tournament Draws and Tie Breaker Rules
Tournament schedules are now available. Check the homepage under Nations Cup, or click here for the full PDF schedule
2023 Divisions are:
Team and Player Bulletin
Teams who are recruiting players or hosting open try outs are invited to post here to help connect with those who are looking for a team. To post on this bulletin, email info@cusa.ab.ca with your posting.
Team/Country or

Player Name

Comments or Information
Contact Information
Argentina - Men's Open

Team Argentina Tryouts/practices - notify Leo if interested in attending.
March 24th - 8.30pm At Calgary Soccer Centre - Annex Alpha Field
Please call before arriving.

Leo Kogan
Text 780-680-4228
nardo.kogan@gmail.com

Turkey

We invite players with a background from Turkey to join us.

Victor 825 431 0326

Croatia - Women's Division

If you are of Croatian heritage or are interested in playing for team Croatia please contact Ivana Mustapic

403-837-8233

Canada - Men's Open

Team Canada Tryouts/practices - notify Dwayne if interested in attending.

March 5th - 745pm At Calgary Soccer Centre - Annex Bravo Field

Please call before arriving.

Dwayne Barrett

Text 4039035372

Chile - Women's Division

If you are of Chilean heritage and would be interested in being apart of this years nations cup with team Chile than please contact Cassandra Mendez

403-383-6735

Italy - Women's Division
If you have Italian heritage and are looking to join team Italy to contact Taylor Lamb
tm.lamb@shaw.ca
Osama Ahmed

I am a 6 foot 1 goalkeeper that played college level goal keeper. I can also play outfield and currently play in the competitive indoor boarded league as midfield and defender. My ethnicity is Palestinian.

3062511712

Poland - Women's Division
If you have Polish heritage and want to join our women's team, please reach out to Olivia Pietras.

403-891-3105